David R. Beck, Knifesmith LLC

"Fine Cutlery for the Adventurer"  

 The Original BECK "WSK" (WILDERNESS SURVIVAL KNIVES)

     Our knives were formerly known as the original "TRACKER" knives from the registered trademark, which we were the first to own & stamp on our blades during the '90's. After a brief retirement & the release of the 2003 Paramount Pictures film "The HUNTED" in which our Model "C" TRACKER knife was used & displayed, we resumed making our original TRACKER knife patterns due to rekindled customer interest. Unfortunately, having to give up our trademark rights due to the period of time our knives were not being produced, we were forced to change the name to avoid costly trademark right disputes from new competition. 

In 2003, needing a new name & the desire to keep it simple & original as our knife, we became the first to coin the name "WSK" or Wilderness Survival Knife to a knife design. "WSK" has since become a generic term now used by many to describe all sorts of "survival" & Bushcraft knives. But today, the only REAL "WSK" continues to be  manufactured right here at our shop.    

    With over 27 years of refinement from personal service, feedback from customers & extensive field testing & use by top survival instructors & Elite military from around the world, our WSK knives have evolved into perfection. Although originally designed primarily as a special-purpose tool for the survival/bushcraft community & wilderness rescue personnel, our knives have not only proven themselves in the field under  real world survival applications, but also repeatedly demonstrated their value & effectiveness in combat during many of our country's latest conflicts abroad. Today you will see many variations by other makers but none can match the history, function & performance of our knives which are still the standard by which all others are judged.

    The WSK knives we offer today continue to be entirely hand-crafted just as when we began development of our first prototypes in the late '80's. From the contouring of the blades, hand cut saw teeth, to the specialized heat treatment, & hand molded sheaths, our dedication to quality ensures the highest degree of craftsmanship & top performance. Each blade is made from 01 high carbon tool steel, differentially hardened & tempered for superior edge holding & blade resillience. The blades can be ordered with either a fine wet-sanded satin or blued finish, the handle material of your choice, permenantly fastened by stainless steel Loveless bolts with solid brass nuts, & a brass-lined lanyard hole. All of our WSK knives come with your choice of sheath style to address every need & application, & are crafted for a custom fit from heavy leather that's been double stitched & finished for long wear. As with all our knives, our WSK's are delivered razor sharp & ready for the field right out of the box. 

There are many imitations, but if you want the real thing, performance you can count on, & a solid investment that has proven to be the only "WSK" knife made that increases in value from the day it arrives look no farther. There just isn't any substitution to a BECK WSK knife. Once you get one in your hands you'll know why we're the only trusted source for the best made WSK available.

Item#BK023  MODEL "C" Gen2 WSK

  Click on thumbnails to the left to enlarge & for captions.

 Item# BK026   MODEL "G" WSK

    An older design of the mid-'90s, this early TRACKER pattern was never part of our official line up at the time, but was only produced as one of our "custom" variations upon request. Re-introduced in 2013 now as a regular item with current refinements, this WSK design offers even greater handling & chopping performance over our model "C" due its longer blade length. 

Developed from extensive testing & feedback from Search & Rescue, Survival instuctors & active military, this WSK pattern is geared for action, serious "bush-living" & combat survival. 

    A single hand hold position rather than two facilitates handling, provides a secure grip with an increadable feel, & due to the shorter handle, a longer 1/4 x 7-1/4" blade aids in more aggressive chopping while keeping the same overall length the same as our model "C" for ease of carry. A tapered tang is std. & creates terrific balance for the ultimate control. Flat taper ground bevel blade bevels, & comes with your choice of sheath style. Loaded with attitude, this WSK is quickly gaining favor from our customers taking this knife into the field.

    Available in blued or wet-sanded satin blade finish, choice of std. handle materials and two hatchet back variations (saw teeth or squared-back). For performance & versatility, we consider the "G" WSK to be the best of the WSK knives we ever produced & carry them ourselves. 

Comes w/sheath style of your choice included in price (See available options below). 12-1/4" OAL. (Approx. carry wt=1 lb. 13 oz)        

PRICING: 

(BK026A)  With "Saw teeth" (Same as used on our model "C" Gen2) = $950.00

(BK026B)   Early "Beveled & sharpened back" version.  *NO LONGER AVAILABLE*

(BK026C)  "Squared-back" version w/hardened & sharp 90 degree edges for ferro

                      rod/flint striking & wet-scraping hides = $875.00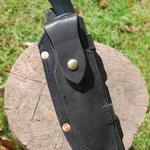 -----------------------------------------------------------------------------------------------------------------------------------------------------------------------------------------------------------------------

 Click on thumbnails above to enlarge & for captions.

-----------------------------------------------------------------------------------------------------------------------------------------------------------------------------------------------------------------------

 Right:  Model "G" WSK . Shown in "Squared-back" version 

              with satin finish & unpolished green & black linen

              Micarta handle.

​    The Model "C" pattern, first introduced in 1991, is best known in its Gen1 version as the knife seen & used by Benicio Del Toro in the 2003 Paramount Pictures film "The Hunted". Distinguished by its unique handle shape, hollow ground draw knife bevel & full-length 1/4" thick tang, this knife was the one which started the TRACKER/WSK craze. Although a good working knife, in later years it became more favored as a collectable than one taken into the field as it was still in need of a few refinements to fully expose the designs virtues. Over time, further refinements were incorporated into the Model "C". While using the same Gen1 pattern, a now flat ground draw knife bevel was added along with a full-length tapered tang & specialized heat treatment of the steel to produce a stronger, better balanced blade which proved to have significant performance benefits over the older version. 

This newer version of the Model "C" thus became known as the Model "C" Gen2 WSK which is the version we offer today. 

* This is the same pattern used for the TRACKER knife seen in 

  "The Hunted" but with the improved bevel & tang upgrades.

* 1/4 x 6-1/4" differentially hardened/tempered 01 high carbon

   tool steel blade.   12-1/4" OAL. 1 lb. 13 oz. approx. carry weight.

* Available only with the original hand-cut, "Swiss Army" type

   staggered non-clogging saw tooth hatchet back that will cut

   on both the pull & push stoke. Designed for wood cutting only.

* The model "C" handle incorporates two grip positions:

   rearmost shifts blade weight forward for increased chopping

   effectiveness, while a forward grip adjusts balance for

   improved handling & control in carving/slicing tasks.  

* Full-length tapered tang, Loveless bolts & lined lanyard hole.

* Available with your choice of either a wet-sanded satin or 

   blued blade finish.

* Handle material of your choice.

* Comes with the sheath style of your choice included in price.

   (See available options below).

   Model "C" Gen2 WSK Price = $1000.00   (plus shipping). 

Original "PIGGYBACK" WSK Scout Sheath  (Left Pic):

Our Original Std. Scout sheath is fitted with an extra pocket permanently sewn on the front to hold our BK018 "Scout" knife when both knives are ordered together as a two-knife set. Due to the design, the larger portion which holds the WSK knife is not wet-molded on this version, but is folded over & the smaller knife pouch adds stiffness & tension to retain the WSK knife in place.

The small knife pouch is wet-molded & has a retaining flap w/heavy duty mil. spec. snap closure. Made std. w/scout loops but can be order without upon request.

(*Click on thumbnail to the left for a larger view.)

"WOLVERINE SCOUT" WSK SHEATH:  (Right pics)

Although we made the TRACKER knife used in "The Hunted" movie, the sheath seen was fabricated by another. This is our version with an improved wet-molded fit for better knife retention.  Although not as versatile as our original "Std. Scout" as this sheath does not feature a vertical side-carry belt loop & thus is designed so it can only be worn in "scout" fashion across the small of the back, it's extra wide "scout" loops provide better carry support & will hold our WSK knives more rigidly in place if this method of carry is preferred. 

The two "scout" loops are adjustable in length by use of a series of lacing holes & nylon cord. Stiff, wet-molded leather grips the knife firmly & carries the blade with the edge facing down for a more comfortable & faster to deploy draw. 

Note: Due to the design & contouring, this sheath cannot be fit to carry the smaller BK018 Scout companion knife as our Original "Std. Scout" sheaths can.  

(*Click on the thumbnail to the right for larger views.) 

 Above: Model "C" Gen2 WSK. Shown w/blued finish &

               unpolished blk. linen Micarta handle.

--------------------------------------------------------------------------------------------------------------------------------------------------------------------------------------------------------------------

New for 2016  #BK026LT  Model "G" Light Weight 

Designed for fast handling & greater control, this new WSK is quickly becoming a favorite of those who are looking to reduce kit weight in the field without compromising efficiency. Although not quite as rigid as our 1/4" version, this WSK, made from the same Model "G" pattern but with thinner 3/16" thick tool steel is plenty tough for all practical purposes & sacrifices nothing in chopping performance. We have thoroughly put these knives to the test & will say they are now our "go-to" WSK model when we take to the woods. Tapered tang is std. & comes with the handle material, hatchet back & sheath style of your choice (see options

 below). 3/16 x 7-1/4" blade. 12-1/4" OAL. Approx. carry weight with sheath = 1 lb. 9 oz.  

​Pricing:

(BK026LTA) Model "G" light weight w/saw teeth = $850.00

(BK026LTC) Model "G: light weight "square back" = $800.00

 *Read the in-depth review by Kevin Estela of our model "G" Light Weight along with our BK018 Scout knife & new "FACS"

  sheath carry system in the 2016 Issue# 23 of RECOIL Magazine (pages 156 - 162).

PIC Below: Model "G" Light Weight (BK026LTA) shown w/saw teeth, satin finish, unpolished green & blk. linen Micarta

                     handle and optional matching BK018 Scout companion knife (sold separately).

WSK Sheath Styles & Available Options

----------------------------------------------------------------------------------------------------------------------------------------------------------------------------------------------------------------------

------------------------------------------------------------------------------------------------------------------------------------------------------------------------------------------------------------------

​ "FACS" (Field Adaptable Carry System) WSK SHEATH (Shown below)

 Our latest design. Wet-molded for glove-like fit, & rectangular shape with generous belt loop for vertical side carry. What sets  

 this sheath apart is that the wider welting permits the addition of optional mounting holes that can be installed between the

  rows of stitching so removable leather straps secured by binder screws can be added, transforming this into a modular-carry

  system where smaller knives & other accessories can be secured. The nice thing is that not only can a BK018 Scout knife be

  secured to the front of this sheath, but unlike our original "piggyback" scout model, the smaller knife (if ordered with the WSK)

  can be removed for separate carry as can all add-on accessory options. 

  Note: In its "basic" configuration, this sheath is only equipped with a vertical side-carry belt loop. No mounting holes are added.

  Mounting holes are optional & only installed upon request or when accessory components are ordered with a WSK knife.

  A full series of holes consists of (6) unlined holes along the longest side of Scout knife sheaths + (2) holes lined w/brass grommets at

  the bottom. WSK FACS sheaths would have 8 + 2 holes. Fewer can be installed if one doesn't need a full series which also produces a

  cleaner look. 

  There is no charge to add mounting holes except for the two lower holes if brass lined grommets are added.  

  Scout loops don't cost extra but must be requested as an accessory. 

  Notes Regarding FACS Sheath Add-Ons:

  Our FACS sheaths were designed so accessories can be added or removed as needed for the field to suit your needs. This idea has

  been working out very well although it is important we include some considerations you should be aware of. FACS sheaths & 

  components can be ganged up so everything can be secured together, but the more components you add the bulkier your rig will

  become. We have placed a BK018 Scout sheath onto a WSK sheath & then attached a gear pouch in one of our set ups. Although this

  works, the whole system became rather bulky to carry on the belt & also had a greater tendency to catch on brush while in the

  field. We can put together any configuration you'd like when placing your order, but for best results we like to recommend limiting 

  major components to two items, such as a WSK + BK018 Scout together, or a knife sheath + a pouch. A third component is usually

  best carried by itself to make the overall kit less cumbersome unless the system is carried by a shoulder strap.    

  *Click on the thumbnails below to view our "FACS" sheaths in their std. (basic) form, along with some of the few ways these can be

    configured with a BK018 Scout knife & other accessory options.

 WSK FACS SHEATH ACCESSORY OPTIONS

  All WSK knives come with the sheath style of your choice & are included in the price of the knife.

Sheaths are made in black leather only. Please specify type, & right or left hand orientation when ordering your knife. 

Note: Replacement sheaths can be ordered for all our knives. Although, due to the nature of hand-crafted knives, slight deviances in size & contouring can occur, so your knife must be returned to us to ensure proper fitting. We no longer fabricate any sheaths without having the customer's knife on hand. We also do not fabricate sheaths for knives not made by us.

"Original Std. Scout" Sheath:  ((Right pics.)

This is the original pattern we began using during early '90's. Crafted from heavy bridle leather, wet-molded for a glove-like fit, std. belt loop for vertical side carry & the addition of fixed 1" wide  "scout" loops that are sewn on the front, wrap around the back & riveted onto the welting. "Scout" loops increase carry versatility to enable the sheath to also be worn cross-draw on the front, or horizontally across the small of the back in the "Scout" position.  

Note: On this style sheath, when worn in the "scout" position behind the back, the blade rides with the saw teeth down, thus you will be drawing the knife out with the edge up. While this may appear awkward at first, the user will quickly adjust & this is the best method of carrying these type knives for the saw teeth will provide a better grip to help keep the knife more securely in place during rigorous travel & also reduce edge wear so your blade stays sharp longer. 

Although "Scout" loops are std., this sheath can be ordered without loops upon request for those who won't utilize this feature & want a cleaner appearance. 

  *Click on thumbnails above to enlarge.

*Click thumbnails above to enlarge.

                                             * * * * IMPORTANT NOTICE ****

  As of 3/19/17 we have had to temporarily close our books for new order requests & 

  will not be accepting any new orders until further notice. This includes WSK knives.

  Please refer to our home page for more detailed information. 

       WSK Knife Options & Accessories

TRACKER/WSK Knife: Anatomy & The Thought Behind The Design

The TRACKER/WSK is a special knife. It has been mis-conceived as one that came about for the production of "The Hunted" movie, when in fact, the design was developed many years prior as a stand-alone work tool for wilderness survival/bushcraft & wilderness rescue applications. The concept was to create a single tool that could efficiently address all the basic priorities needed for wilderness survival in an easily transported platform. It is an accepted fact that no single knife is a "do-it-all" solution that can equal the performance of one tailored for a specific task & this can be said of the TRACKER/WSK. It can do a lot, nothing with the greatest proficiency, but everything called upon for what it's designed. That is, a tool that will tackle every basic task required in primitive wilderness survival conditions without adding the extra weight of specialized tools to your kit. It will not chop wood like an axe, cut like a buck saw, or carve as a scalpel, but for practical "survival" concerns, precision & dedicated efficiency are not as valuable as versatility, resilience & dependable performance when addressing your basic needs. Design & application is always a give-and-take thing & under real world survival conditions, a dedicated tool proficient for a single task may not be the best choice when your life depends on many faceted tasks of equal importance. If you want to travel the backwoods with less restrictions, the simplicity & versatility of a multi-purpose tool is more practical than the weight of several, & your skill level should compensate for the minute limitations. The TRACKER/WSK then becomes the perfect knife to fill your needs & this is exactly what it was designed for. WSK knives are not intended to be perfect for all tasks, but ARE designed to be very effective at the most encountered tasks of chopping, slicing, carving, splitting, shaving & sawing required for survival, & with well thought out features strategically placed & proportioned for optimum efficiency, the TRACKER/WSK knife is a very practical concept for survival/bushcrafting purposes. They are essentially, a tool designed specifically to create other tools under primitrive conditions. They may not do everything perfectly, but when getting the job done with only one tool can mean the difference between a full belly, safety & warmth by the fire or being a statistic, the TRACKER/WSK is a sure bet you can depend on to deliver what you need. Although visually a radical concept, the TRACKER/WSK knife has repeatedly earned a solid reputation for its proven effectiveness under the most challenging conditions & has demonstrated its value as the knife of choice of outdoorsmen & professionals world-wide. The WSK was designed as the best concept for survival/bush trekking & living where function & toughness are the priority, & for that it excels.

BLADE FINISHES:  Indicate your choice when ordering.

(Examples are shown on LEGEND knife blades)

(Top) SATIN: Wet-sanded to 320 grit & rubbed with a

                         fine Scotch Bright pad to blend.

(Bottom) BLUED: Our satin finish with a cold chemical

                                 blue application produces a dark blue

                                 to dark gray/black color.

Note: Neither finish offers better corrosion resistance.

           A light coating of oil or wax is recommended to help

           protect the blade's finish.  

HANDLE MATERIALS:  Micarta is the absolute best for durability under all conditions & is now our std. material. Stable, virtually indestructible, requires no maintenance & looks great on our knives. Specify color & finish when ordering.

(Finishes) Polished. High gloss finish. Highlights layering & looks terrific on finished knives but is more slippery when wet.

                  Unpolished: Finely sanded & waxed. Most popular. More subdued appearance with slightly less slippery grip.

(Note: All samples shown w/polished finish)

​Black Linen Micarta

Green & Black Linen Micarta

OD Green Linen Micarta

Natural (Tan) Linen Micarta 

Maroon Linen Micarta

Black Paper Micarta

Antique Linear Paper Micarta 

COLORED TANG SPACERS:

Used as a nice accent to our Micarta handles for a more "customized" look.

Available in: White, Black or Red

*(Blue no longer available)

Adds  $10.00 to the cost of a knife when requested. 

WSK HATCHET BACK & SPINE RECESS OPTIONS:

Model "C" WSK knives are only available w/a saw tooth back.

Model "G" WSK can be ordered with either our aggressive-cutting & anti-clogging saw teeth which cut square & "V" notches on both the pull & push stroke, or in a "squared back" version for flint striking & scraping.

Blade Back Recesses (the curved area between the saw teeth & handle). All WSK knives are made std. w/rounded recess edges to reduce hand wear during extended carving & when choking up for scraping, but upon request sharp 90 degree edges can be left on so it can be used for hide fleshing/scraping. The recessed part of the blade back is not hardened enough for ferro rod striking so another part of the blade or a dedicated striker should be used.

 The pic to the left shows both WSK knives with rounded recesses.

BK018 SCOUT "Companion" Knife.

This is the only knife we are presently offering other than our WSK knives as this makes the perfect companion piece to any WSK. When combined for a two knife set this package will address every task you may encounter.

Can be ordered w/a WSK & mounted in the fixed pocket on a "piggyback" WSK sheath, or by itself with its own FACS style sheath which can also be secured to a WSK FACS sheath yet be removable for separate carry. 

1/8 x 4" blade. 8-1/2" OAL.

Non-tapered tang, choice of blade finish, & handle material.

Price includes the option of either its own FACS sheath, or mounting on a piggyback WSK sheath.

10 oz. carry wt.  $245.00

*Shown w/satin finish & unpolished blk. linen Micarta handle.

SCOUT LOOPS: Removable 1" wide w/black aluminum binder screw fasteners = No charge when purchased w/WSK knife.

MOUNTING HOLES: No charge when installed at time of knife purchase.

BRASS GROMMETED LOWER MOUNTING HOLES: Lower holes are needed for accessory mounting or lashing to web gear. Lined

                                      holes are not necessary as unlined mounting holes will work, but grommeted lower holes add reinforcement &

                                      provide easier lacing when securing to web gear & do look nice.  Cost per set of two =$15.00 

BLACK 1" D-RINGS: Permanent when mounted on our original std. scout or "piggyback" Scout sheaths, but removable when

                                      added to our FACS sheaths. Requires "Scout" loops to attach to sheaths. Needed for attaching a shoulder strap

                                      for horizontal shoulder carry. Fits our #SS1 "Survival strap" or any 1" webbing. $.50 (set of two)  

#SS1  SURVIVAL STRAP: 1" x 8' long 4000 lb. safety-rated mil. spec. Sterling climbers webbing made into a fully adjustable sling for

                                     shoulder carry of our knives, or disassembled for use as an emergency climbing aid or load-bearing strap.

                                     Included hardware not safety rated & must be removed prior to load bearing use. Sheaths must have D-rings

                                     added to attach. Can replace dangler loops on our Baldrick Rig to enable shoulder-carry.

                                     *Refer to Sterling's web site for specs. & limitations for load bearing/climbing use.

                                     Comes with nylon slides & Velcro keepers. (See Baldrick Rig info below for pics). 5 oz.  $15.00

#WWS  WSK WET STONE: 1/2 x 1 x 4" hard Arkansas stone. Custom shaped w/a radius along one long edge for also sharpening the

                                     "hook" on our WSK knives. Will fit into any of our accessory gear pouches. 3 oz.  $18.00

BA1 BALDRICK RIG: Will fit any of our knife sheaths. Slides through the main belt loop & secures in place w/a leather strap &

                                        two heavy duty mil. spec. snaps. D-rings included. Priced w/std. removable leather dangler loops (set of

                                        two), but can be ordered without loops for some savings if you prefer to use a shoulder strap instead.

                                        Used for lowered vertical side carry from the belt or vertical carry from the shoulder by use of a shoulder

                                        strap. 3.5 oz. w/dangler loops. (See examples in the pics below. Click images to enlarge w/captions).  $55.00

ACCESSORY GEAR POUCHES

Can be attached to any FACS sheath by use of mounting holes, straps & hardware, or carried separately. Molded leather w/belt loop & heavy duty mil. spec. snap closures.

Comes with free mounting straps & hardware when ordered with a knife sheath to be mounted on.

PH1  SMALL POUCH: 1/2 x 1-1/2 x 4"  3.5 oz.

          Large enough to carry our WSK wet stone, up to

          a 1/2 x 4" ferro rod & our FACS Tool together.

          $85.00

PH2  LARGE POUCH: 5/8 x 2-3/8 x 4-1/2" 5 oz.

          Large enough to carry our WSK wet stone, a Swiss

          Army Trekker knife (not sold here), & our FACS

          Tool. A nice option when folding knife is

          preferred over a fixed blade & less sheath bulk    

          important on the trail. 

          $95.00

 Item# BK018  SCOUT "Companion" 

------------------------------------------------------------------------------------------------------------------------------------------------------------------------------------------------------------------------

FERRO ROD LOOPS:

Both made with 3/8" x 1-1/2" loops . Molded leather. Will accept any ferro rod 3/8" or 

smaller that's at least 2" long. Fits the "LightMyFire" Swiss Army model perfectly. 1/2 oz.

Two types available at $20.00 ea.

#FLF  (Fixed): Sewn into the sheath welting. The best method of attaching a ferro rod &

           most recommended for our FACS sheaths as it frees up mounting holes for other

           use, but can be added o any sheath.

#FLR (Removable): An alternative style loop attached by use of binder screws

                                  (included). Can be mounted in many ways & positions but are only

                                  compatible with our FACS sheaths, or can be attached to the bottom

                                  mounting holes of our pouches.

#FACSTL  FACS TOOL 

(Shown next to a Swiss Army Trekker for size comparison)

1/6 x 3/4 x 4" extra hard 01 tool steel. 1 oz.

The sides have sharp edges for ferro rod striking & will cast much better sparks than using a knife blade. The edges & flats can be used as an emergency blade edge shaper/burnisher when a more suitable sharpening device is not available.

The narrower screw driver tip is used for adjusting the mounting screws on our FACS sheaths to facilitate sheath component reconfiguring in the field. Will fit in both our gear pouches. 

$18.00 

Notes on our tools & accessories:

We offer the above tools & accessories as a convenience, but we also like to share options as a professional gesture to our customers if you'd like to save cost. The items we offer are nice additions to your knife order, but as with anything hand made, labor cost can often drive prices a bit higher than we'd like. For those looking for alternatives we have listed a few suggestions below you may want to consider which must be purchase from other sources as listed.

SHARPENING STONES: You can buy the same hard Arkansas stones direct from www.danswhetstone.com (item# FAP-14-T) for

                                              about $12.00. You can easily create a radius onto one of the long edges by abrading on a cinder block

                                              without the need to any special equipment. It doesn't take much time & would save you some cost plus

                                              give you the experience in dressing up your own stone which is a good skill to learn anyway.

FERRO RODS & STRIKERS: At this time we don't sell ferro rods but do make stikers (FACS TOOL). For ferro rods we recommend

                                                   either the LightMyFire "Army Model" or the firsteel.com "Armageddon" 3.0 or 4.0. These are some of 

                                                   best rods we've found & last a very long time. Excellent strikers can also be purchased from

                                                   firesteel.com really cheap at about $1.79 although too thick for adjusting the mounting screws on

                                                   our sheaths but it's easy to find a tool that's  about 1/6" thick to work well.

ACCESSORY GEAR POUCHES: The ones we produce are certainly nice but also costly for us to make. A great alternative is a

                                                           Condor MA45 i-pouch. These are a bit bulkier & must be secured to the sheath using 550 or bungi

                                                           cord, but are a good alternative if you need the room to hold more components & are about $15.00. 

We hope these tips can be helpful. If we come up with more helpful tips we'll add them here.