David R. Beck, Knifesmith LLC

"Fine Cutlery for the Adventurer"  

 The Original BECK "WSK" (WILDERNESS SURVIVAL KNIVES)

**** NOW AVAILABLE FOR ORDER ****

     These knives were formerly known as the original "TRACKER" knives from the registered trademark, which we were the first to own & stamp on our blades during the '90's. After a brief retirement & the release of the 2003 Paramount Pictures film "The HUNTED" in which our Model "C" TRACKER knives were used & displayed, we resumed making our original TRACKER knife patterns but changed the name to avoid now questionable trademark right disputes. 

In 2003 we were the first to coin the name "WSK" or Wilderness Survival Knife to a knife design. "WSK" has since become a generic term now used by many to describe all sorts of "survival" & Bushcraft knives. But, the only REAL "WSK" is manufactured here at our shop.    

    With over 26 years of refinement from personal service, feedback from customers & extensive field testing & use by top survival instructors & Elite military from around the world, our WSK knives have evolved into perfection & have repeatedly proven themselves in the field from real world survival to combat in many of our country's latest conflicts. Today you will see many variations by other makers but none can match the history, function & performance of our knives which are still the standard by which all others are judged.

    The WSK knives we offer today continue to be entirely hand-crafted from the contouring of the blades to the hand cut saw teeth to ensure the highest degree of craftsmanship & performance. Each blade is made from high carbon tool steel, selectively hardened & tempered for superior edge holding & blade resillience. The blades can be ordered with either a fine wet-sanded satin or blued finish, the handle material of your choice which are permenantly fastened by stainless steel Loveless bolts with solid brass nuts, guaranteed never to loosen, & a brass-lined lanyard hole. Our sheaths are crafted for a custom fit from heavy leather that's been double stitched & finished for long wear. As with all our knives, our WSK's are delivered razor sharp & ready for the field. 

There are many imitations out there but if you want the real thing and performance you can count on, try one of our WSK knives. You'll be pleased you did.

  Click on thumbnails below to enlarge & for captions.

    Our latest WSK design offers even greater handling & chopping performance over our model "C" & the discontinued "PA" WSK it replaced. 

Developed from extensive testing & feedback from Search & Rescue, Survival instuctors & active military, this newest WSK pattern is geared for action, serious "bush-living" & combat survival. 

    The single position handle promotes a secure grip with an increadable feel. The 1/4 x 7-1/4" blade (1" longer than our "C" pattern) aids in more aggressive chopping while the full length distal-tapered tang creates terrific balance for the ultimate control. Flat taper ground bevel blade bevels,  & comes  with our std. scout sheath for multiple carry options. Loaded with attitude, yet all in a package the same size as our Model "C".

    Available in blued or wet-sanded satin blade finish, choice of std. handle materials and in three hatchet back variations. For performance & versatility, we consider the "G" WSK to be the best of the WSK knives we ever produced & carry them ourselves. 

12-1/4" OAL. (Approx. carry wt=1 lb. 13 oz)        

PRICING : 

(BK026A)  "Saw teeth" (Same as used on our model "C" Gen2) = $950.00

(BK026B)   Early "Beveled back" version.  *NO LONGER AVAILABLE*

(BK026C)  "Squared-back" version w/hardened & sharp 90 degree edges for ferro

                      rod/flint striking & wet-scraping hides = $875.00

*Note: Top Pic shown w/blued blade & sharpened back edge.

              Bottom left thumnail: Pic of saw teeth & flat top back options.

              Bottom right thumbnail: Pic of model "G" w/flat top back.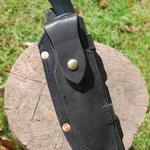 ---------------------------------------------------------------------------------------------------------------------------------------------------------------------------------------------

-----------------------------------------------------------------------------------------------------------------------------------------------------------------------------------------------------------------------------------------

 Click on thumbnails above to enlarge & for captions.

-------------------------------------------------------------------------------------------------------------------------------------------------------------------------------------------

 Above:  Model "G" WSK w/satin finish, "Squared-back" &   

                 unpolished green & black linen Micarta.

​    The Model "C" pattern, first introduced around 1991, is best known in its Gen1 version as the knife seen & used by Benicio Del Toro in the 2003 Paramount Pictures film "The Hunted". Distinguished by its unique handle shape, hollow ground draw knife bevel & full-length 1/4" thick tang, this knife was the one which started the TRACKER/WSK craze. Although a good working knife, in later years it was more favored as a collectable than one taken into the field. Over time, further refinements were incorporated into the Model "C". While using the same Gen1 WSK pattern,  a now flat ground draw knife bevel was added along with a full-length tapered tang & selective heat treatment of the steel to produce a stronger, better balanced blade which proved to have significant performance benefits over the older version. 

This newer version of the Model "C" thus became known as the Model "C" Gen2 WSK which is the version we offer today. 

* This is the same pattern used for the TRACKER knife seen in "The Hunted".

* 1/4 x 6-1/4" high carbon tool steel blade.    12-1/4" OAL.   1 lb 13 oz approx

   carry weight.

* Available only with the original hand-cut, non-clogging saw tooth hatchet

   back.

* Full-length tapered tang, Loveless bolts & lined lanyard hole.

* Available with your choice of either a wet-sanded satin or blued blade finish.

* Handle material of your choice.

* Comes with a black leather std. scout type sheath which can be worn 

   vertically on the side, or by using the attached "scout" loops, can also be worn

   horizontally across the small of the back (w/saw teeth down for better grip),

   or cross draw on the front (w/the cutting edge down. Available in Black only.

  Model "C" Gen2 WSK Price = $1000.00   (plus shipping). 

"PIGGYBACK" WSK Scout Sheath:  

Our Std. Scout sheath can be fit with an extra

 pocket on the front to hold our BK018 "Scout" 

knife when both knives are ordered together as 

a two-knife set.

(*Click on thumbnail to the right for a larger view.)

WOLVERINE SCOUT SHEATH 

    This option can be ordered in place of our Std. Scout sheath at no extra cost. Although not as versatile, it is a rigid sheath to hold our WSK knives more securely in the "Scout" fashion.

It has two extra wide, adjustable "scout" loops but no vertical loop & is designed for horizontal, behind-the-back carry only. Made from a stiffer black tooling leather that's wet-molded to the shape of the knife for a much firmer grip to help lessen the risk of knife loss under highly physical or "tactical"conditions.  (*Click on the thumbnail to the right for a larger view.) 

Note: Due to the contoured shape, a "piggyback" pocket option for a BK018 "Scout" knife can not

            be added to this sheath version.

 Above: Model "C" Gen2 WSK w/blued finish & unpolished blk. linen

               Micarta handle.

Sheath Notes:  Some customers like Kydex or other sheath styles & colors we don't offer. If you'd like to make your own or have a special maker you'd prefer do

                             your sheath work, all WSK knives can be ordered by themselves without sheaths & we would deduct cost difference from the knife price.