David R. Beck, Knifesmith LLC

"Fine Cutlery for the Adventurer"  

 The Original BECK "WSK" (WILDERNESS SURVIVAL KNIVES)

TRACKER/WSK Knife History:

    The concept originated in the early '80's between collective minds to address the needs of the modern hunter-gatherer relying primarily upon aboriginal skills rather than extra gear for lighter travel. The tool needed to be tough, dependable, & possess the traits of both a hunting knife & hatchet to accomplish the most common tasks encountered to survive & thrive in the wilderness. Developing such a design had its challenges & wasn't easy. It wasn't expected to be perfect for every task as some compromises & limitations had to be accepted, but the idea was to construct a tool that worked well enough, that a single knife could accomplish all the practical requirements one would need to perform. An early attempt was called the "Medicine Blade". This was an acceptable tool which still needed much refining, but it demonstrated possibilities & set the foundation  for the influence of others to come. 

    After being introduced to the concept, David Beck presented his own design improvements & in the late '80's he was persuaded  to take over the project, & within a few years, the basic concept transformed into a more functional tool displaying his own unique design enhancements & his knife shop was opened to equip those in the growing "survival/tracker" community. Aside from the "Medicine Blade", until then the knife concept was otherwise just known by its generic reference to the survival school where it originated, but in 1991, a name was officially designated after Mr. Beck became the first to own & stamp the registered trademark "TRACKER" on his blades, & the Original "TRACKER" Wilderness Survival Knife was born.

    After ten years of producing his knives, idea conflicts & marketing difficulties resulted in his first venture coming to an end, & with the closure of the knife shop also meant the end to his exclusive trademark rights.

    Through luck & circumstance, his knife was selected for an upcoming film, & he became the designer & maker of the actual "TRACKER" knife used by Benicio Del Toro in the 2003 Paramount Pictures film the "HUNTED", which for historical reference, was one of his model "C" Gen1 TRACKER knives. With the exposure & renewed interest, a new demand brought buyers looking for the "Real" TRACKER knife, but only found disappointment with what was now being marketed.  With several years to concentrate on further design & manufacturing improvements bringing his "TRACKER" knives to a new level of performance never before offered, a better chance of success appeared promising, & he re-opened his doors for business. It was a tough start & met with resistance as he now had to address competitive pushback  & establish himself with a world-wide community who knew little of his name, history, & involvement. In addition, with others now marketing their own versions & battling over name rights to secure an advantage, his hopes to reclaim his TRACKER trademark meant too much expense with little prospect of gain, so he decided to just change the name, & from that time forward, his knife became simply known as the "WSK" (Wilderness Survival Knife).

Production of his new knives didn't last long as his second attempt was cut short by injury, but in 2011 the knife shop once again resumed full-time knife making operations but now under the name of David R. Beck Knifesmith LLC. With many years experience under our belts & motivated for success, we now look forward to a long-lasting venture providing our customers with some of the highest quality knives they're find anywhere.  

The TRACKER/WSK Knife Today:   

​    After over thirty years of dedication & hard work, our WSK knives have evolved into very fine-tuned tools which far outperform the early examples. Proportions, angles, contours & heat treating have been perfected, raising the bar of performance well beyond what could have been imagined years ago. What started as a simple, yet highly efficient tool for modern survivor/hunter-gathers, was now seeing use in many conflicts abroad, proving to be just as dependable & effective in demanding combat/survival applications as it was on the home front.

Through feedback from the Special Operations community & many other deployed military personnel, further testing & refinements ensured our knives could meet the challenge, & pushed our WSK knives to a new pinnacle of design & demand. 

   Traditionally, TRACKER/WSK knives were made from 1/4" thick blade steel. This was an effective, but heavy choice when combined with full field gear. But with the perfection of design & specialty heat treatment now done "in-house", it was found that a lighter steel could now be equally effective without any compromise in practical strength & overall performance.

    Today, we continue to hand-craft each WSK knife to 

ensure quality & peak performance, but starting in 2019, 

all new WSK knives ordered now come std. with 3/16" 

thick blades. Extensive field testing & customer feedback

confirms their proven durability & effectiveness, but with

the benefits of lighter carry weight, & increased handling

& control, our new WSK knives are certain to be a much

welcomed improvement. 

    There are many now producing this style knife, but no

one has made them longer, crafted more by hand, or has

more experience to know the intimacies of the Tracker/WSK

design better than us. If you're searching for a true 

"TRACKER/WSK" knife, look no farther, for our WSK 

knives have become the standard by with all others are 

compared. 

  Click on thumbnails below to enlarge & for captions of features that come std. with every knife.

-----------------------------------------------------------------------------------------------------------------------------------------------------------

----------------------------------------------------------------------------------------------------------------------------------------------------------------------------------------------------------------------

​Black Linen

(*Discontinued)

Green Linen

Tan Linen

< (Left) COLORED TANG SPACERS: (Click thumbnail to enlarge).

Available in: White, Black or Red *(Blue no longer available)

*Only one color choice per knife.

Add  $10.00 to the cost of a knife when requested. 

< (Left) #MTL: Multi-Tool 

(Shown next to a Swiss Army Trekker for size comparison)

1/6 x 3/4 x 4" fully hardened 01 tool steel. 1 oz.

The sides have sharp edges for ferro rod striking & will cast much better sparks than using a knife blade. 

The edges & flats can be used as an emergency blade edge shaper/burnisher when a more suitable sharpening device is not available.

The narrower screw driver tip is used for adjusting the mounting screws on our sheaths to facilitate sheath component reconfiguring in the field. Price = $18.00 

SHARPENING STONES: 

We only use natural, hard Arkansas stones with light oil on our knives & recommend the 1/2 x 1-1/2 x 4" & 1/2 x 1 x 4" pocket stones. We no longer sell stones, but these can be purchased from: Dan's Whetstone www.danswhetstone.com) 

ACCESSORY GEAR POUCHES: We discontinued our old pouches but are working on developing some new designs with improved features. We will list these as soon as we have them available to order.

All our WSK knives come std. with differentially hardened/tempered high carbon steel blades, self-cleaning "Swiss-Army" type staggered saw teeth which cut on both the pull & push stroke, flat-ground blade bevels, tapered tang, "Field-gray" blade finish, & a right hand blk. molded leather sheath with single belt loop for vertical side-carry only. 

You select the Micarta handle color & any sheath options you'd like to add from our "Options" list below.

Dimensions:

Blade thickness = Measured at the thickest cross-section of the blade. 

Blade Length = Measured from the shoulder of the plunge line nearest the handle to the point. 

OAL (Overall Length) = Distance from the butt to point.

Carry Weight = Includes both knife & sheath. Actual weight may vary depending upon the handle material selected.

Our waiting list is presently full, & we are not taking new orders for WSK knives at this time. We expect to resume taking orders again in early 2020. This message box will updated as soon as we know the exact date new orders will be accepted. 

​(Refer to pic above)

(Top) #C3WSK: Model "C" Gen3 WSK: Taken from the same "TRACKER" knife pattern introduced in 1991 that was 

                            used for the "HUNTED" movie, except now with a flat-ground draw knife bevel for added strength,

                            tapered tang & 1/2" longer blade to be more proportionately correct to compensate for the now

                            lighter weight. Multi-position grip. This is the way the model "C" was meant to be.

                            3/16 x 6-3/4" blade. 12-3/4" OAL. Tapered tang & flat-ground blade bevels. 

                            Carry wt. = 1lb. 9oz.    List Price = $900.00

(Middle) #G2WSK: Model "G" Gen2 WSK: Taken from our mid-'90's pattern with more efficient upgrades added.

                                   3/16 x 7-1/4" blade. 12-1/2" OAL. Tapered tang & flat-ground blade bevels.

                                   Carry wt. = 1lb. 9oz.    List Price = $850.00

(Bottom) #TDWSK: Trail Dog WSK: The newest to our WSK knife line-up. "Matchete-type" handle for positing grip

                          & ease of control w/a more pronounced forward finger guard for added safety. Flat-ground bevels 

                          & tapered tang. The feel, assurance & control of this one makes it our favorite of the WSK line.

                          Carry Wt. = 1lb.9oz.    List Price = $875.00

                                (Above): John "Lofty" Wiseman

A good friend & proud owner of one our  model "G" WSK knives.

Hope to see you on the trail.

David R. Beck taking a break on Angel's Landing, Utah

----------------------------------------------------------------------------------------------------------------------------------------------------------

WSK Handle Material Options

(*Discontinued)

​Black Paper

Antique Ivory

    As with all our knives, WSK sheaths have the ability to be modified to add mounting holes which enable the attachment of other options & gear you may want to secure onto the sheath. Mounting holes are unlined but are nicely finished inside to help prevent wear & ease the insertion of Chicago (binder) screws or lashing cord.

Mounting holes are required to attach "scout" loops, slings & a smaller "companion" knife. We can add only the number of holes required to fill your need, or add a "full series" of holes spaced 1" apart running up the side of the sheath + two horizontal holes at the bottom for the greatest versatility. There is no extra cost to add unlined mounting holes. Only the two lower (horizontal) holes have the option be lined with brass eyelets if you desire for an extra $15.00.

*Std. sheaths come free of mounting holes unless requested. Feel free to consult us if you need assistance on the set up that will work best for you.

Sheath Set-up Example Options

(Far Left): "Basic" version sheath.

(2nd from left): Shown w/removable "scout"

                            loops & (2) lower leg

                            tie/lashing holes w/optional 

                            brass eyelets.

(3rd): Shown with removable "scout" loops,

           lower eyeletted holes + two extra holes

           for mounting a #SC4 4"Saranac

           "companion" knife.

(Far Right): Full series of mounting holes

                      w/lower eyeletted holes & fixed

                      ferro rod loop. 

<(Left): Fixed Ferro Rod Loop (3/8 x 1-1/2"). 

             Will fit any ferro rod that's at least 2" long & not larger

             than 3/8"in diameter. Shown with a LightMyFire "Swiss

             Army Model ferro rod. (Ferro rod not included). $20.00

We donn't sell ferro rods, but for the best we recommend the firesteel.com "Armageddon" 3.0 or 4.0, or the LightMyFire "Swiss" Army Model.

Vertical & lower (horizontal) Mounting Holes: Just tell us what you need or we can assist with suggestions.

                                                                                   Unlined holes are nicely finished inside & are no extra cost.

                                                                                   (2) lower horizontal holes w/brass eyelets add $15.00 

"Scout" Loops: 1" leather straps secured by two Chicago (binder) screws. Requires (2) mounting holes. 

                           Used for additional frontal cross-draw & behind-the-back carry options. No extra cost.

​< (Left) #SS1 Adjustable Shoulder Strap: (Click thumbnails to enlarge)

Made from 8' of 1" 4000 lb. safety-rated Sterling tubular climbers webbing. Fully adjustable w/nylon hardware, D-rings & easy detachable snap clips. The best way to carry a knife while running or for easy removal. Disassemble & use the strap by itself as an emergency climbing aid or load-bearing strap. *Hardware not safety rated & must be removed prior to load-bearing use. Requires "Scout" loops installed on a sheath to use. Price = $20.00

The Two-Knife "Piggyback" Rig: (See Pics Below)

For those who want the ultimate WSK knife set up, you can add one of our #SC4 4" Saranac knives onto the front of a WSK sheath. There is no cost for this service. We'd add the necessary mounting holes to each sheath, include all mounting straps & hardware & will pre-attach everything together prior to shipping. This will give you a convenient & rigid set up with both knives in a single package for easy carry & access, yet everything is easily detachable for individual carry. Mounting straps are embossed on the back w/reference numbers so you'll always know where they belong. 

The "piggyback" set up will accommodate "scout" loops & ferro rod loop on the WSK sheath only.

*Note: Some may find a "piggyback" rig a bit bulky for vertical carry on your hip. When using this type of set up we recommend adding one of our #SS1 Shoulder Slings to keep everything high & tight against your body & not catching on vegetation. This is how we prefer to carry our WSK & other large knives. 

*See pics below to show how the "piggyback" set up is assembled.

 Click on thumbnails below to enlarge.

​(Left) David R. Beck working with a model "G" WSK at a knife

           seminar at Hawk Mountain, PA.

Tracker/WSK Blade Anatomy

A. Draw Knife Edge: The sharpest, & most delicate edge for

     general carving, shaping & scraping. Originally hollow

     ground, but in later years changed to a flat-grind (shown)

     to provide greater edge support. 

B. 1/4-Round: Used as a gut hook & for carving/scraping trap

     parts & arrow shafts.

C. Hatchet: Flat-ground for chopping, scraping & the only

     edge that should be used when splitting woods. Correctly

     angled so the strongest part of the blade forward of the

     "1/4-round" delivers the impact for greater edge safety &

     penetration.

D. Saw Teeth: "Swiss Army" type staggered tooth design is

     self-cleaning & aggressive cutting on both the pull & push

     stroke. Used for cutting square notches, or tilt at a 45 degree

     angle to cut "V" grooves (both used for traps & snares).

     Downward angle enables sawing square & "V" grooves on

     flat surfaces & stakes for trip & snare wire channels.

E: Spine Recess: Specifically designed as a striking point when

     splitting woods & for push-carving. The curved surface

     enables the blade to be rocked or tilted at any angle & still

     receive direct energy into the material being worked. 

     Current knives come std. with rounded edges for more

     comfort, but the original method was to use sharp edges to

     enable fleshing & wet-scraping of hides for brain tanning.

     *New knives can be made w/sharp recess edges if requested.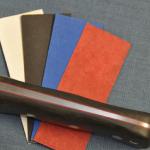 Although additional benefits have been discovered by 

 others, the anatomy details to the right explain what

 these knife features were originally designed for.

-------------------------------------------------------------------------------------------------------------------------------------------------------------

F. Arrow Wrench Hole (Not Shown): On many early knives, a 3/8"

    hole placed in the center of the hatchet body for straightening

    arrow shafts. Determined to be less effective than hand-

    straightening & often denting shafts, this option was later 

    omitted & is no longer offered.